By Nick Adams MW
New Zealand is arguably the most remote country in the world and is the first to see the sun rise in the morning. With a population of 4.8 million, people are easily outnumbered by the 27 million sheep which also inhabit the country!
New Zealand is the 16th largest winemaking nation in the world, producing around 400 million bottles pa and accounting for 1% of the global wine production. Their industry employs over 16,000 people and contributes around $NZ 1.5 billion to the economy each year. Although the industry can trace its roots back to the early 19th century – when British ex-pat oenologist James Busby (also part of the origins of the Australian wine industry) first made wine in 1836 - it is only in the last 50 years that it has really taken shape and expanded.
And to some effect …. The key lead line and variety that has driven this rapid growth is Sauvignon Blanc which we are all very familiar with. They took this Loire classic variety and in one place in particular – Marlborough – created a new, exciting, and exotic style which took the world by storm, although interestingly before 2002 Chardonnay was the most widely planted variety.
In summary, New Zealand is the "newest" of all the New World wine countries. And this blog is taking a vinous crystal ball and looking beyond Sauvignon Blanc as to which other varietals and regions (other than Marlborough) could emerge as (relative to their size) front runners in the next 10-20 years. But first just to set the scene with some amazing numbers.
As of 2023 the New Zealand wine industry could be summarised as follows:
739 wineries with 681 growers
41,860 hectares under vine
Production (volume) split by varietal:

Sauvignon Blanc 76.5%
Pinot Noir 7%
Pinot Gris 6%
Chardonnay 6%
Merlot 1.5%
Riesling 1%
All others 2%

Production (volume) by region:

Marlborough 80.5%
Hawke's Bay 7.8%
Gisborne 3.8%
Central Otago 2.4%
Nelson 2.1%
Canterbury 1.9%
Wairarapa/Martinborough 1.0%
Auckland 0.3%
What these figures quite starkly show – as mentioned already - is just how skewed the industry is towards one variety – Sauvignon Blanc, and one region – Marlborough. And amazing to think that it was only in 1973 that Montana – now called Brancott Estate and owned by Pernod Ricard – planted the first Sauvignon vines in Marlborough! And by 1985 a certain winery called Cloudy Bay was receiving worldwide acclaim for its Sauvignons.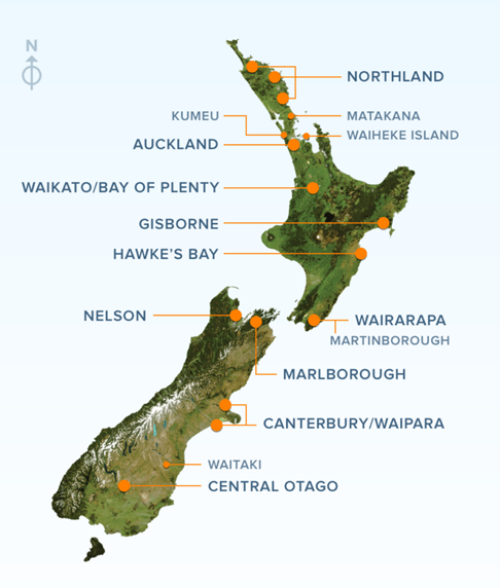 So, with the greatest respect to Sauvignon and Marlborough, which varieties and regions are going to take New Zealand into a new era and provide exciting drinking for the consumer.
With its maritime, and relatively cool, climate New Zealand is arguably closer climatically to Europe than any other New World country. One of the reasons that the late ripening Cabernet Sauvignon only accounts 200 hectares of plantings is that the many regions in the country are, simply, not warm enough to consistently ripen this grape. However, the "luminosity" (or UV intensity in the country) contributes well to the ripening process. Overall, this then means that the environment is much more sensitive to producing high quality wines from (earlier ripening) grapes which prefer a cooler climate. In addition, the country enjoys high diurnal ranges in many regions (ie high: low, day: night temperature ranges) which always assists in creating greater complexity in the juice in grapes.
Looking at those grapes and wines with the greatest potential?
Pinot Noir in particular
Other "noble" black grapes made very much in a European style (eg Syrah)
Virtually all aromatic white varieties (not just Sauvignon)
Pinot Gris – made in the Alsace style
And frankly – Chardonnay – the climate is ideal to mimic and make a Burgundian style of wine of real quality
And bottle fermented Sparkling Wine?
And which regions could raise their profile even higher?
Frankly all of them in due course (from the map) but I feel that there are three which particularly stand out:
Hawke's Bay
The excitement regarding Hawke's Bay (North Island) – a sixth the size of Marlborough by the way - is focused very much on the sub district of Gimblett Gravels – some 25 miles inland from the centre of the bay itself. This district is in and adjacent to the old Omahu River Channel and the soils – formed from both erosion and compaction over the last 5 million years have a fine sand to a fine loamy sand topsoil, overlying stony gravels mixed with varying proportions of sand, and stony layers of greywacke. With limited topsoil and excellent drainage qualities this delimited area is starting to produce some high quality red wines with Syrah showing the greatest potential but with Bordeaux blends – often lead by Merlot – also doing well. The Syrahs being made here are very much in the North Rhône – rather than Australian - style.
Overall, Hawke's Bay – being arguably the warmest of all the regions – has potential too with white grapes – namely Burgundian styled Chardonnay and Pinot Gris – made in the Alsace – rather than Italian – style.
Image Left - Arial shot of Gimblett Gravels in Hawke's Bay
Wairarapa/Martinborough
This small region (a quarter of the size of Hawke's Bay) at the southern end of the North Island has already gained a significant reputation down almost single handedly to one estate – Ata Rangi – which first planted Pinot Noir in 1980 in the deep alluvial soils of the area. With its temperate climate it allows for slow maturation of the grapes and greater complexity in the juice as a result.
Fast forward to the 2010 International Pinot Noir Conference, Ata Rangi Pinot Noir was one of two producers (the other being Felton Road in Central Otago) granted the title of 'Tipuranga Teitei o Aotearoa' (which translates from Māori as "Great Growth of New Zealand" or "Grand Cru" equivalent), in recognition of their unique site and of the family's commitment to evolving and developing New Zealand Pinot Noir. A remarkable achievement and recognition to both Ata Rangi (and the Paton family who pioneered this all).
So much so that Pinot Noir is by far the main plantation and its reputation is only set to increase going forward. But again, watch out for some interesting and very textural Pinot Gris which are also coming up on the rails.
Image Right: Arial shot of Martinborough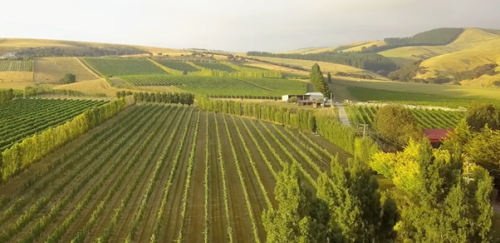 Central Otago
This Southern Island enclave (about half the size of Hawke's Bay) is New Zealand's most continental climatic growing area – warm summers are contrasted by cold and snowy winters – it is the country's skiing centre, not least as the region is over 300 metres high and surrounded by mountains which reach 3,700 metres in height. As a result of the winters here picking is often 4-5 week later than the warmest spots in the North Island.
The structure of the soil also differs considerably from other wine growing regions of the country, with heavy deposits of coarse mica and schist with loam and some silt. This soil drains easily and given that most vineyards are positioned on hillside slopes, irrigation is often required.
Commercial plantings here too only really took off from the 1980s – and so much so that there are now 143 wineries in the area (compared to 106 in Hawke's Bay, 69 in Wairarapa/Martinborough, and 513 in Marlborough to put into context!). Pinot Noir has always been the leading varietal and accounts for 80% of all plantings. Such has been the reaction to the overall quality and style coming out of Central Otago over the last 40 years that the region is now broadly acknowledged as New Zealand's finest for Burgundian styled Pinot Noir. And maybe no surprise given such focus on Pinot Noir, that plantings of Chardonnay are on the increase and several fine very Burgundian examples are emerging.
But again, please watch out for some excellent textural Pinot Gris and racy, citric Rieslings. This is one area not to hold your breath regarding Sauvignon Blanc as plantings account for less than 2% of the viney ard area!
Images Left: Central Otago – please note the netting being rolling out to stop birds raiding the grapes - a major pest problem in New Zealand.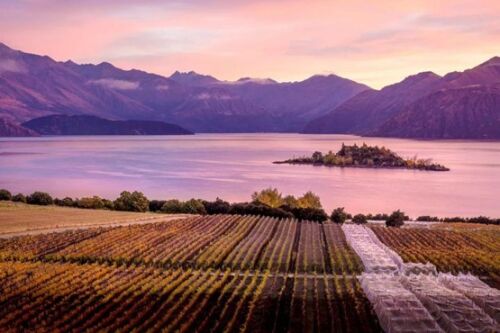 Aromatic Whites and other Varietals in General
Given the success of Sauvignon Blanc and dominance of the Marlborough region, aligned to the cooler, maritime climate, there is undoubted potential for numerous other aromatic white varieties. The most established of these are pockets of Riesling where bone dry to lightly off-dry wines are being successfully made which have a cross between an Alsace (French) and Clare Valley (Australia) style.
Plantings of Viognier have fallen but may return in favour if Syrah – paradoxically – increases in interest and spread.
The real buzz seems to be around varieties that may not have crossed the mind of an average Kiwi producer some 10 years ago – most notably:
Grüner Veltliner
Albariño (first planted in 2016)
Sauvignon Gris (the spicy cousin of Sauvignon Blanc)
So "watch this space" as they say.
There has also been a long following for Gewurztraminer – again very much in the Alsace style – along with Semillon (often picked young when more citric and "grassy" to blend with Sauvignon) and Cabernet Franc (an earlier ripener than Cabernet Sauvignon) clearly as part of Bordeaux blends, especially in Hawke's Bay.
And no surprise that there is as much interest potentially in the aromatic whites in Marlborough as a positive diversion from an (over)dependence on Sauvignon Blanc.
A final note on Chardonnay. Because Sauvignon Blanc has so dominated the vinous scene in New Zealand this international favourite has rather languished. Although plantings have declined over the last 10 years there is a movement amongst Pinot Noir producers to partner their Burgundian styled reds with a Burgundian styled white – and the climatic backdrop is ideal for high quality Chardonay that is for sure.
Other Wine Styles
Rosé
Frankly, the general standard of New Zealand Rosés has left quite a bit to be desired over the years with often diluted and/or confected flavours, and too much residual sugar. However, production has increased 8-fold in the last 3 years which hopefully bodes well for a commensurate increase in quality too.
Sparkling Wine
To my surprise the first sparkling wine was made in New Zealand in 1956 but was only really made on any scale from the 1980s, mainly in Marlborough. In time it attracted the attention of the Champagne industry – to the extent that both Moët & Chadon and Deutz invested directly in the region. In 2013 several Marlborough producers collectively established the Méthode Marlborough to promote consistency, quality, and marketing of said wines.
The quality of New Zealand sparkling wine can be very good and several Central Otago producers – using the "Champagne" base of Pinot Noir and Chardonnay – are making some especially attractive styles. And there also remains Lindauer – a long established sparkling wine specialist in Gisborne. I think we will only see more and better examples of sparkling wine emerging in the future.
In summary, Sauvignon Blanc is, and will remain for the foreseeable future, the single most important grape and wine for the New Zealand wine industry – and Marlborough the biggest production centre.
However, I hope this blog shows that there is great potential for diversity and quality - with several other international grapes and styles. I think above all that Pinot Noir could emerge further as the star example – and not least for Marlborough itself too.
Let's finish, as ever, with some Peter Graham Wine portfolio examples.
There is a fine example of the more textural take on Pinot Gris from Selini, Hawke's Bay.
Then two wines from Central Otago producer Two Paddocks – a Burgundian styled Pinot Noir and fine, zesty, citric styled Riesling.
Then, maybe paradoxically, from Allan Scott in Marlborough a bottle fermented and aged Pinot Noir Chardonnay blend "Cecilia" which examples well the Kiwi sparkling wine style (and well-liked by leading New Zealand wine writer Bob Campbell MW).
The Real Review – 94 Points
"A blend of chardonnay and pinot noir from several estate vineyards. An appealing sparkler with an ethereal texture and brioche, baked bread, and citrus flavours. A dry, delicate wine – a delicious aperitif." Bob Campbell MW