By Nick Adams MW
In just over 30 years since the ending of Apartheid, the South African wine industry has developed and prospered in the most dramatic of fashions. And this too against an economic and social backdrop which has been far from stable or supportive, and which sadly remains true to this day.
The wines now, in general, are the highest and most consistent quality they have ever been and, as importantly, regularly deliver excellent value for money. Peter Graham have long championed the wines and have a fine cross section of styles and varietals – and I will be highlighting some of these in this blog.
History
Maybe one of the immediate surprises about this country is just how old it is when coming to winemaking. South Africa has the oldest winemaking tradition and heritage of any New World country, with the first vintage being produced in 1659.
By 1685 the Constantia estate (pictured right) was established by the Governor of the Cape – Simon van der Stel and it was he who first produced the famous Vin de Constance. By the 18th century – under Hendrik Cloete – the wines were world famous – and by 1859 South Africa was exporting 1 million gallons of wine to the UK alone!
However, when the parasitic bug phylloxera struck in 1866 the country's wine industry was plunged into crisis. For much of the 20th century the industry remained small scale and introspective – not least due to the international reaction, and imposition of trading restrictions in response, to Apartheid. For many years production and sales were mainly domestic, and quality did suffer, although in 1918 growers in the Western Cape founded the KWV co-operative, partly to control and improve quality of production (today all regulatory work is managed by the South African Wine & Spirit Board). The most dramatic change came about – not unsurprisingly – post the collapse of the Apartheid regime in the 1990s. With export markets thrown wide open, and (most importantly) significantly increased investment in vineyards – and very importantly with the planting of new vine stock - the quality threshold rose dramatically. The new industry position clearly encouraged plenty of new entrants and healthy competition developed.
Today, plantings and production in South Africa regularly puts it in the top 8 of all wine producing countries of the world. New regions are regularly being defined – and since 1973 they have been formally called WOs (Wine of Origin). Today there are over 80 – and growing – of these.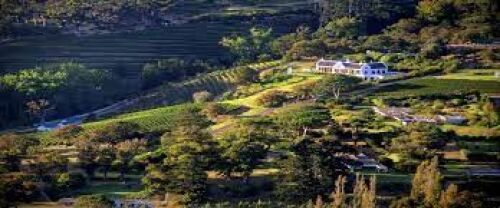 Geography and Leading Production Areas
Positioned at the very tip of the African continent, the majority of South Africa's viticulture is located near the coast, particularly to the west where it benefits from the influences of the cooler Atlantic Ocean rather than the warmer Indian Ocean (to the east). One of the coolest regions is Constantia, which juts out into the Atlantic south of Cape Town. A little further inland is the famous district of Stellenbosch, which has been growing vines since 1679 and is now the administrative regional centre for the whole industry. With over 50 different soil types it is not surprising that a complex range of white and red wines are made – including fine examples of Chardonnay, Sauvignon Blanc, red Bordeaux blends, as well as South Africa's ubiquitous white grape Chenin Blanc. It is probably South Africa's finest area for Cabernet based Bordeaux blends.
Further inland the warmer Paarl area (with its sub districts of Franschhoek and Wellington) focuses on the production of mainly red wines – including some interesting developments with the Syrah (aka Shiraz) variety. However, increasing focus and investment in South Africa is on cooler areas and the use of altitude to promote extended growing seasons and more complex flavours in the grapes. One of the finest areas is the Walker Bay area to the south-east of Stellenbosch. Here two regions are catching the eye – Elgin, with its cool, crisp Sauvignon Blancs and measured Chardonnays; and Hemel-en-Aarde, where classical Burgundian Pinot Noirs and Chardonnays are increasingly well made.
The Atlantic influenced West Coast region includes the wine making areas of Durbanville, Olifants River, Piketberg and Swartland. Historically a bulk wine production region, the focus has moved towards premium wine production, with plantings of Sauvignon Blanc in the Groenekloof area near Darling and Rhône varietals and the local Pinotage in unirrigated farmland of the increasingly respected Swartland district (to the north of Cape Town). Increasing use of altitude is again being exploited with refined higher altitude Chenin Blanc emerging from the remote Cederberg region for example.
Historically the Loire white grape Chenin Blanc was the most planted variety and, not unsurprisingly, in the 1990s 80% of production was white wine. Whilst it remains the most planted varietal it is in decline (relative to others) and today red and white are about 50:50, with red varieties rapidly increasing their share. Maybe more importantly it has moved away from being simply the mass market fill to some increasingly serious and spectacular estate examples. What many producers have found is that there are pockets of seriously old, often bush vine Chenin Blanc parcels which produce low yielding juice of exceptional quality.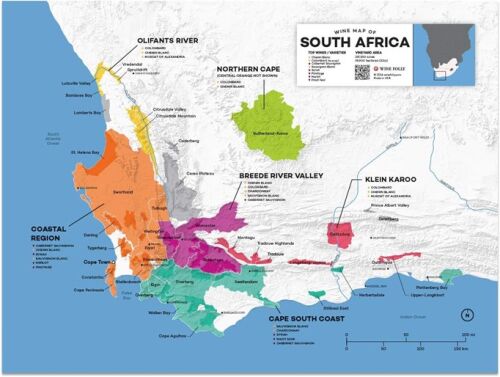 Other Styles
Sparkling Wine
In addition, South Africa has a thriving Sparkling wine industry and since 1992 has embodied this under the "Cap Classique" banner for the bottle fermented and aged production of high-quality sparkling wine. Today there are over 80 members adhering to strict "Champagne" methods, standards, and grape blends.
Fortified Wine Tradition
Like Australia, South Africa is the one other New World country with a long history of making high quality fortified wines. This is especially so with "Sherry" and, "Port" styles which thankfully continues to this day. They are also strong in the production of dessert and fortified Muscat styles.
Pinotage!
However, one cannot finish an introduction to this country without a mention of its own homegrown red grape – Pinotage, (image right). By "homegrown", it was a crossing made in 1925 between Pinot Noir and Cinsault, although it bears little resemblance to either grape's style in its new entity. It has a rather brawny, robust, and maybe brusque style and is a true "marmite" variety. But it does have its advocates and followers for sure. Importantly, its unique style is part of South Africa's vinous canvass and remains an active ingredient in the exciting melting pot which is South Africa today.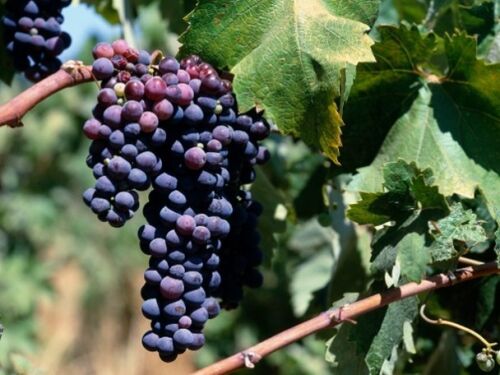 So, we start with two wines from the very modern and very good False Bay Vineyards – whose vineyards are based in the large, cool climate, area to the East of the Contantia Peninsula, south of Cape Twon. Both the Chenin Blanc and Pinotage offer a lovely precise varietal style and very good value for money. Both are very clean and very fresh in style but with a nice kick of ripeness. Both are fermented with wild yeasts and made very "naturally" – the Pinotage enjoys a lick of oak and to quote Nadia is "more "Pino" than "Tage"!
Image Left - Nadia Barnard – Winemaker at False Bay Vineyards – with the increasingly fashionable "egg" fermenters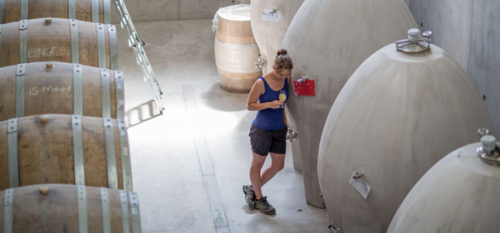 Please find a lovely mix of wines below from the Peter Graham portfolio – including a nice mix of red and white including a fine, value for money Chenin Blanc – and yes, a very good Pinotage! And then taste how well Pinotage can work when the basis of a short-term skin maceration Rosé, with The Post Tree example below.