By Nick Adams MW
Peter Graham Wines Buying Director Andy Gaskin has spent a significant amount of time in recent months reviewing and enhancing the PGW Bordeaux offering, so I thought it timely to draw your attention to this most famous of regions and a highlight selection of wines available with PGW. I believe this is one of the strongest suits in the pack at PGW and would encourage you to give their selection a look.
The wines of Bordeaux have held a special place in the hearts of many generations of British wine drinkers – generating some remarkable levels of loyalty and imagery. For many this region is seen as the epitome of fine (red) wine drinking, but these days the top wines that have built and sustained that reputation and imagery have reached, in many cases, simply eye watering prices - making them the preserve of the rich, or the investment tool of the wealthy speculator.
However, there are still fine and more affordable examples to be found but it requires some sieving and investigation – which I hope to help you with over the next two blogs! In this first part I will look at the background to the region, the geography and climate and the famous (or infamous!?) classifications.
In part two will look at the grape varieties and regions behind the wines, with some highlights in the way the wines are made. There will be highlights and recommendations along the way from the Peter Graham Portfolio of course.
What is Bordeaux?
A "Bordeaux wine" is any wine produced in the large Bordeaux region covering the whole area of the Gironde department (please see map). With a total vineyard area of over 120,000 hectares, this makes it one of the largest wine areas in France, only rivalled by Languedoc Roussillon. Average annual production is over 700 million bottles of wine!
90% of wine produced in Bordeaux is red (often referred to as "claret" in the UK), but also is the home to some outstanding sweet white wines (most notably Sauternes and Barsac), and dry whites (most notably Pessac-Léognan, but also very affordably in the Entre-deux-Mers region). In much smaller quantities, there is some rosé and sparkling wines (called Crémant de Bordeaux). There are over 8,500 producers, or "Chateaux" and 54 different appellations to give another sense of scale.
Geography & Climate
The climate of Bordeaux is maritime (mild winters, warm but potentially humid summers and autumns). Very importantly the whole region prospers thanks to the amazing sand dune "Dune du Pilat" to the west (on the Atlantic Coast). At over 300 feet in height is not only the highest in Europe but acts as a vital windbreak and climate moderator, without which the quality of the region's wines would undoubtedly suffer.
The main river – the Gironde – splits the region into two, hence the term "Left Bank" – made up of the Médoc, which includes the prized sub districts of St. Estèphe, Pauillac, St. Julien, Margaux and Pessac-Léognan (Graves), along with sweet wine areas of Sauternes and Barsac. The "Right Bank" is much further inland. It is a far bigger area, and the two most important communes are Pomerol (which is small) and St. Emilion (which is large).
Pauillac (1st Image) - Pomerol (2nd Image)
The soils of the left bank are especially poor, with deep gravel (ice age) beds and no real topsoil. The right bank is less gravelly with more clay and loam, and in St. Émilion limestone where the best wines tend to be made. The soils of Sauternes/Barsac are less gravelly with more loam and some sand. In simple summary terms, the key black grape for red wines of the Left Bank is Cabernet Sauvignon, in the Right Bank it is Merlot, each of which perform better to these soil types.
However, this does not mean the wines here are mono varietals – they are nearly always blends and this blending element is critical to the style and quality of these areas but also highlights the differences between estates within each area as they adapt their own formula to differentiate themselves from neighbours, whilst reflecting the vagaries of each vintage.
The two main black grapes – as mentioned – are Cabernet Sauvignon and Merlot but Cabernet Franc (especially Right Bank) and, to a lesser, degree Petit Verdot (especially Left Bank) are also important varieties in the overall blending regime. Paradoxically, both Malbec and Carmenère were also original Bordeaux varieties used in blends, now championed by Argentina and Chile respectively, so successfully that several estates in Bordeaux are replanting these two again!
The leading white grape (for dry white Bordeaux) is Sauvignon Blanc – many in Bordeaux claim (frankly rightly) its spiritual home was Bordeaux, not the Loire Valley. The other important white grape (for sweet wines) is Sémillon, especially for the dessert wines of Sauternes and Barsac.
Bordeaux's Dichotomy
Bordeaux's reputation is a paradox. The 1855 Classification cemented in place the reputation of 60 Médoc châteaux and one in (then) Graves. It also included an additional 26 Sauternes and Barsac sweet Châteaux - as in those days sweet wine was regarded as the finest of all wines from Bordeaux. Then, Château Yquem – Sauternes greatest estate - was classified as the greatest of all Bordeaux wines.
In must be stressed that unlike Burgundy, Alsace, or Champagne "Grand Cru" status is awarded in Bordeaux to individual estates, not the whole commune they are located in.
In the red classification they ranked the red wines in a tier of five layers or great growths (Cru Classé) – with "Premier Grand Cru Classé" being the highest. These included Chateaux Lafite-Rothschild, Latour, Margaux, and Haut-Brion (then a Graves). In 1973 Mouton Rothschild was elevated to join the Premier Grand Cru Classé.
In Sauternes there were three grades – Yquem as "Superior" Premier Cru Classé, then First and Second Growths.
Since then, there has been much debate about the classification. The irony has been that although some say that Château x should be promoted (or demoted) the majority tend to agree on the original 61 selections within the Cru Classé list – sure some have gone up and down in reputation, but that has often been down to lack of investment, or a poor winemaking period, rather than an intrinsic error in selection. I think they did a good job back in 1855.
Image Right -The original 1855 Classification document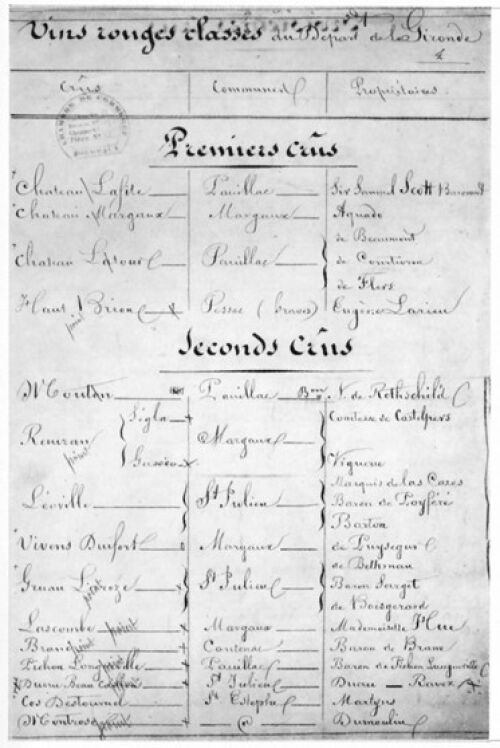 In 1932, the better (non) Cru Classé Médoc châteaux became part of a new category called Cru Bourgeois which was, in effect, a sandwich fill between Cru Classé and the everyday estates, which are generically referred to as "Petits Châteaux". However, in recent years fractional in-fighting about the hierarchy within the Cru Bourgeois category has led to a number withdrawing from the classification. In 2010 it was reintroduced as a one tier, annually awarded category.
Turning to the "right bank" to date Pomerol has never had a formal defined Cru Classé system, but St. Emilion did so (maybe theatrically) in 1955. Here they developed a four-tier system – which included a Premier Grand Cru – split A (led originally by Ausone & Cheval Blanc) and Premier Grand Cru B, and then a more permanent Grand Cru Classé system, supported by an annual review Grand Cru classification. Recent headline promotions to Premier Grand Cru Classé A (there is usually a 10-year audit here) have included Châteaux Pavie and Angélus but since the 2022 harvest Ausone, Cheval Blanc and Angélus (ironically) have dropped out of the system so it certainly remains the most fluid of all Bordeaux classifications.
In Pomerol, the top three most recognised and sort after growths are Pétrus, Le Pin (part of Vieux Château Certain ownership) and Château Lafleur. Other great growths include Vieux Château Certan (itself), L'Evangile, Trotanoy, L'Eglise Client amongst others. Because the area is so small, and vineyards produce so little, the rarity aspect has accentuated the prices for these wines too.
In what was called the "Graves" district there was, over time, a formal pressure and request to differentiate the top estates from the rest - and in 1987 the sub district of Pessac-Léognan was created which included all the greatest estates (by definition – no surprise). What is unique about this area is that it makes both high quality dry red and white wines – and in 1959 this was formally recognised in their own Grand Cru Classé system, to include both colours (unique in Bordeaux). There are not any first or second tiers, but Châteaux Haut-Brion and La Mission Haut-Brion (both under the same ownership – and for both red and white) are universally accepted as the region's greatest growths. Other stars include Haut-Bailly (red), Domaine de Chevalier (red and white), Pape Clément (red and white), Smith-Haut Lafitte (red and white) to take as examples.
In part two I will look in more detail at the regions and their wines and how the blending of grapes and production techniques affect quality and style.
There will be more selections from the list in this part as a result, but I cannot finish the first part without highlighting what for many of us is arguably the more important commercial aspect of this region – finding a consistently affordable producer and style which is good. Whilst it is easy to admire the famous names and Cru Classé in a Bordeaux "beauty parade", there are numerous less exalted estates and producers who really deliver and deserve supporting. In addition, finding good quality entry level red Bordeaux is not as straight forward as might first seem.
So, here are two top examples in my view from the Peter Graham Bordeaux portfolio. In the entry level category is Parcelle 45 Merlot 2019 from Château les Millaux on the right bank, owned by the Bellot family since 1925. This is a generous and black plum fruit led Bordeaux with rounded mouthfeel and texture – excellent value for money.
And ever in search of that Château that is capable of over delivering for its status and price I must highlight the ever popular and dynamic estate of Château Gloria. (Image Right).
Château Gloria is in the superior left bank appellation of St-Julien. It is a renowned estate that can produce red Bordeaux equal in quality to those from the more prestigious classed growths in the region. Henri Martin, a cooper by training, took over the property in 1942 and began purchasing plots of vineyards from classed growth properties including Gruaud-Larose, Talbot, and Léoville Barton. Henri Martin died in 1991 and Gloria is now run by his son-in-law Jean-Louis Triaud. Year after year it delivers exemplary and polished red Bordeaux that is both concentrated but also elegant and capable of bottle aging.
PGW have stocks of the fabulous 2016 – one of the greatest ever vintages in the modern-day history of Bordeaux - and now just entering perfectly into its drinking window. I whole heartedly recommend this wine.